IMPRESS POTENTIAL CLIENTS WITH DETAILED, PROFESSIONAL QUOTES.
With M4's quote management software, create, send, and track professional quotes all from one place.
Customize M4 quotes with your company branding, and easily include important details such as discounts, required deposits, and contract terms.
Need to see a property in person? You can schedule on-site assessments to start the quoting process.
If a client requests an updated quote while you're out in the field, no problem. You can edit, create, and send quotes all from the M4 app on your phone.
Available on all plans. Visit Pricing
If you need to gather more information before you can create a quote for a client, you can schedule an on-site assessment.
Your client gets a reminder before the assessment date, and the team member responsible for the assessment has all the information they need in the M4 app.
Once you have all the details in hand, you can convert an on-site assessment to a quote or job.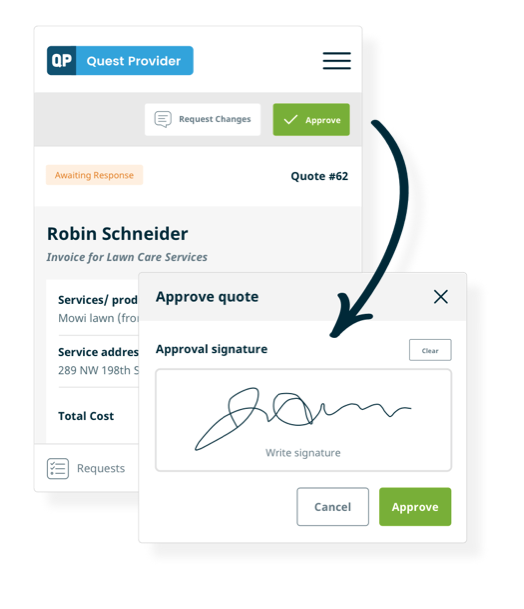 Your clients can approve and request changes to quotes in your client hub.
In your Jobber account you can see the status of all your quotes, and have a solid understanding of what steps your clients have taken towards booking your services.
If your business requires signatures to move forward with work, you can collect a signature when a client clicks 'Approve' on a quote.
Keep and access all of your quotes in M4. Filter by date sent and status to easily identify opportunities for follow-up and to track your wins.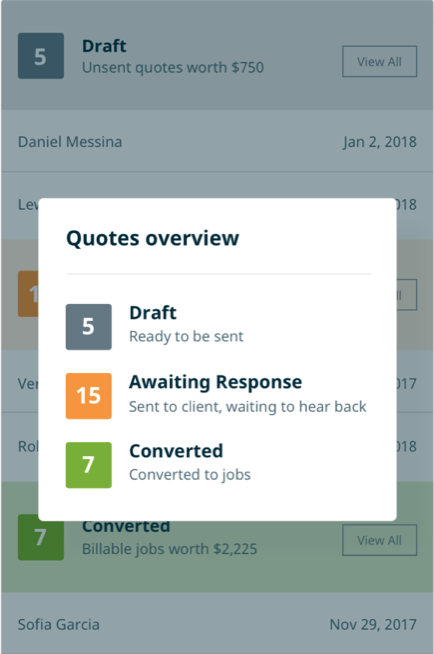 ALL THE FEATURES, ALL THE SUPPORT, AND NO CREDIT CARD REQUIRED.
Generate follow-up reminders, so that none of your quotes are left collecting dust. If a quote status doesn't change from sent to won within a set amount of time that you specify, M4 automatically adds a reminder to your list of tasks.
One less to-do on your list, and more work in your calendar.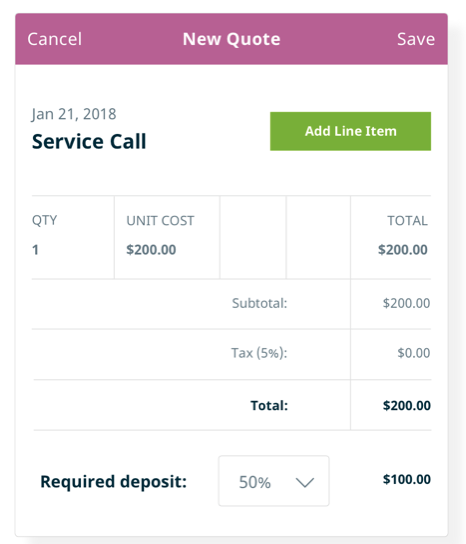 Collect deposits from clients in order to move forward with work when you enable Jobber Payments (only available to our customers in the United States and Canada) or Stripe.
Enable our signature collection function and you'll ensure your clients are doubly committed to their scheduled work.
Clients can view current and past quotes on your client hub and any changes made in Jobber or client hub are updated in real time.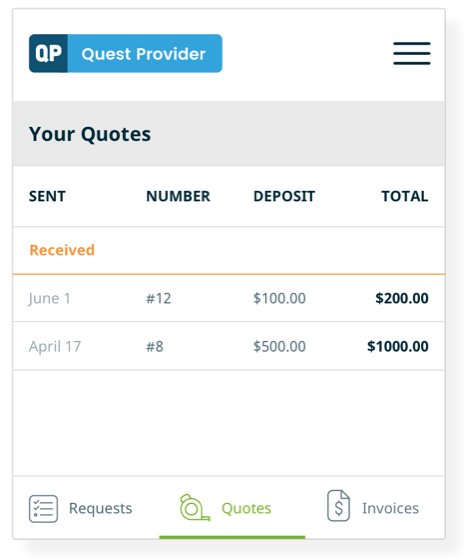 Win more work with less effort, by sending automatic follow up messages to clients about quotes you haven't heard back on. Email and text message follow-ups will help proposals close themselves.
In Jobber, you can customize your follow-ups so that they work seamlessly with your sales process. Change the email and text message templates, pick the number of follow up messages sent, and on what days/times you'd like them to be sent.
Quote follow-ups are available on Grow Plans. Visit pricing.